Rail Wheel Factory (RWF) at Yelahanka, Bangalore is a premier manufacturing unit of Indian Railways, which is engaged in the production of wheels, axles and wheel sets of railroad wagons, coaches and locomotives for the use of the Indian Railways and some overseas customers. It was commissioned in 1984 to manufacture wheels and axles for the Indian Railways.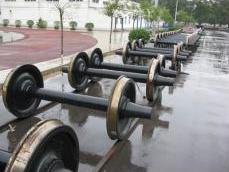 The plant has many unique and modern features incorporating state of art development in technology and designs. For example, the civil engineering structures are planned on with modern architectural concepts; the cast steel technology used in the manufacture of wheels uses the scrap steel collected from Railways own workshops as raw material, the end products (the wheels, axles and wheel sets) are precisely engineered with little scrap for human errors; rigid quality control and latest MIS for production planning and control.
It has a planned capacity to manufacture 70,000 wheels of different sizes, 23,000 axles and to assemble 23,000 wheel sets. It employs over 2000 personnel and has an annual turnover of about 82 crores.It is an ISO 9001: 2000 and ISO 14001 certified unit for its business processes. It has claims to the best productivity figures among comparable industries. It has a very high level of automation in its manufacturing facilities and has an enviable information technology set up.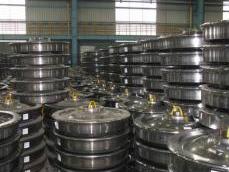 External Links
Edit