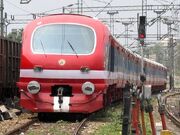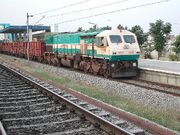 The Indian Railways manufactures a lot of its rolling stock and heavy engineering components. As with most developing economies, the main reason is import substitution of expensive technology related products. This was relevant when the general state of the national engineering industry was immature.
The seven manufacturing plants of the Indian Railways, called Production Units, are managed directly by the ministry. These seven production units (PUs) are each headed by a General Manager (GM), who also reports directly to the Railway Board. The Production Units are:
Other independent units of Indian Railways are:
Research Design and Standards Organization (RDSO), Lucknow is the R&D division of Indian Railways and functions as the technical advisor to Railway Board, Zonal Railways, and Production Units.
Bharat Earth Movers Limited, Bangalore is an organization unrelated to the Indian Railways, however it manufactures coaches for both the Indian Railways and the Delhi Metro system.
The Central Organisation for Railway Electrification (CORE), Metro Railway, Calcutta and construction organisation of NFR are also headed by a General Manager.