Mumbai Rajdhani Express is a train run by Western Railway, that connects Mumbai and Delhi. It is the fastest train on the Mumbai - Delhi route. It connects the national capital New Delhi to the commercial capital of India, . There are two trains both from Delhi and Mumbai daily.
Train no. 2951/52 is known as Mumbai Rajdhani, while its twin Train no. 12953/54 is known as August Kranti Rajdhani or AK Raj. It covers a distance of 1385 kilometres in each direction however it takes 15 hours 50 mins when operating as train number 12951 at an average speed of 87.47 kmph (excluding halts) while its return journey as train number 2952 takes 16 hrs 05 mins at an average speed of 86.05 kmph (excluding halts) thus making it the fastest train on the Mumbai - Delhi sector.
Also Mumbai Rajdhani is the fastest Rajdhani train in the Indian Railways.
Coach Composition
Edit
The Mumbai Rajdhani generally has a 1 AC 1st Class, 4 AC 2 tier, 2 pantry cars, 2 luggage cum generator cars and up to 10 AC 3 tier coaches, thus taking the total up to 19 coaches, the maximum that can be accommodated at Mumbai Central station.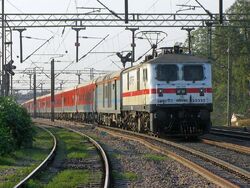 Locomotion
Edit
The train is hauled using electric engines all the way from Mumbai to New Delhi with a loco change over at Vadodara. A WCAM 2P engine hauls the train between Mumbai Central and Vadodara where it switches over to a WAP 7 engine from the GZB shed. It would earlier get a WAP 5 engine.
Destinations
Edit
Both trains run via Vadodara, Ratlam and Kota, but AK Rajdhani covers the distance upto Hazrat Nizamuddin only and has much more stoppages than its twin.
Train no. 2951/52 stops at the following stations :
Train no. 2953/54 stops at the following stations :
AK Rajdhani covers the Mumbai - Nizamuddin stretch in 17 hours 10 minutes.
Popularity
Edit
Numerous fan sites tote the speed and resilience of the August Kranti Rajdhani Express as a symbol of the Indian national spirit.
The American collegiate Hindi a cappella group Johns Hopkins Kranti of the Johns Hopkins University is named after the August Kranti Rajdhani.
References
Edit
External links
Edit