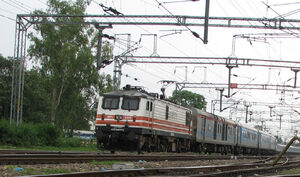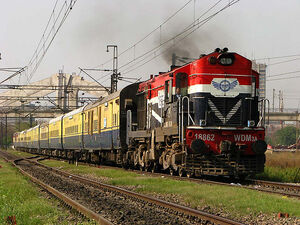 Lucknow Shatabdi Express is a Northern Railway train that connects the Indian capital New Delhi to Lucknow, the capital of Uttar Pradesh. There are two Shatabdis each from New Delhi and Lucknow daily. This was the first train in India to get the new LHB coaches.
Initiatives
[
]
Lucknow Shatabdi has been awarded the ISO certification.
Efforts are now on to increase the speed of the Lucknow shatabdi and bring it on par with the Agra - New Delhi stretch of the Bhopal Shatabdi.
Route
[
]
Train No. 2003A and 2004A known as the Lucknow Shatabdi Special is via Bareilly and Moradabad. While, Train No. 2003 and 2004 known as the Lucknow Swarna Shatabdi is via Aligarh and Kanpur.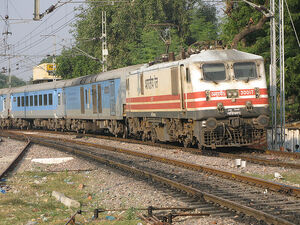 Destinations
[
]
The train runs through the Ganga Valley Plains, one of the most populated regions in the world
Via Kanpur
[
]
The train 2003/04 stops at following stations:
Kanpur Central

Aligarh Jn.

Ghaziabad
Via Moradabad
[
]
The train 2003A/04A stops at following stations:
Bareilly

Moradabad

Ghaziabad
External Links
[
]