Started in 1952, the Integral Coach Factory (ICF) is a factory for rail coaches located in Perambur, a suburb near Chennai, India. Most of the coaches manufactured are supplied to Indian Railways, but it has also manufactured coaches for railway companies in other countries, including Thailand, Burma, Taiwan, Zambia, Philippines, Tanzania, Uganda, Vietnam, Nigeria, Mozambique and Bangladesh. Recently, ICF exported coaches to Angola. It also has got orders worth of 102 crores from Sri Lanka.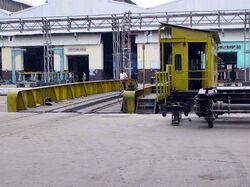 The coach factory provides a number of different coaches primarily for the Indian Railways, primarily first and second class coaches, pantry and kitchen cars, luggage and brake vans, self propelled coaches, electric, diesel and mainline electric multiple units, metro coaches and Diesel Electric Tower Cars (DETC), Accident Relief Medical Vans (ARMV), Inspection Cars (RA), Fuel Test Cars, Track Recording Cars , the latest coaches are Deccan odeysey, and Coaches for MRVC (world class coaches)
== History == The Integral Coach Factory was set up in 1951 with the help of M/s Swiss Car and Elevator Manufacturing Corporation Ltd., Schlieren-Zurich (Switzerland). It was inaugurated by the then Prime Minister of India Pandit Jawaharlal Nehru on 02 Oct 1955. Production began in a modest manner in 1955 with the manufacture of seven third class coach shells. Today the coach factory produces more than 1100 coaches of more than 170 varieties. In the year 2007-08, ICF created a milestone by producing 1291 railway passenger coaches, as against its installed capacity of 1000 coaches per annum. It employs about 13000 persons.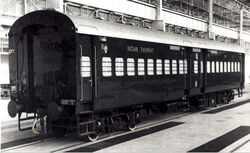 Structure of the organisation
[
]
The integral coach factory consists of two main parts - the shell division and the furnishing division. The shell division manufactures the skeleton of the rail coach, while the furnishing division is concerned with the interior and the amenities.