Howrah Rajdhani was the first fully air - conditioned, as well as the first Rajdhani Express in India. It was stated in the year 1969. At that time it only had AC Chair Car. It reduced the traveling time from New Delhi to Howrah (Kolkata) from 24 hours to 17 hours. The train is still one of the fastest in India. It is also known as Kolkata Rajdhani.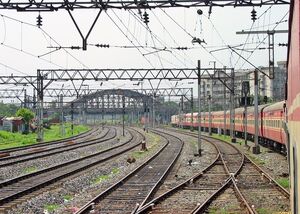 Rajdhani Express was introduced on 3 March, 1969 for providing high - speed connections up to 140 kmph (speed varies depending upon the particular track section) from New Delhi, the national capital to different state capitals. In few cases the Rajdhani also run to other important locations in the state.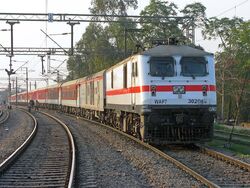 The train has high priorities on the indian railway network and are fully air - conditioned. The passengers are provided with complimentary meals during the journey. Depending on the timings of the train, lunch, high tea, dinner, morning tea and breakfast are served. The trains offer three classes of accommodation; First Class AC with 2 or 4 berth lockable bedrooms, Second Class AC 2-tier with open system berths (bays of 4 berths + 2 berths on the side) but provided with curtains for privacy, Second Class AC 3-tier (bays of 6 berths + 2 berths on the side) with no privacy curtains.
Destination
Edit
The train is an important link between Kolkata and New Delhi. Seeing the popularity of the train another Rajdhani i.e Sealdah Rajhani (Sealdah is also a railway station in Kolkata), was also started.
The train runs near some of the most holy sites in India like Varanasi, Allahabad, Gaya, Parasnath and Deoghar. It also connects the financial capital of Uttar Pradesh, Kanpur to Delhi and Kolkata.
The train follows two routes. Train no. 2301/02 runs on the first route via Gaya except sundays. Train no. 2305/06 runs on second route, via Patna on sundays.
The train covers a distance of 1,433 km in 17 hrs and 10 mins.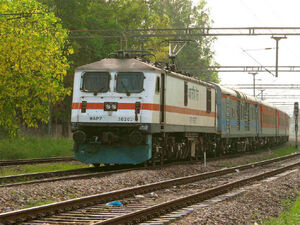 Via Patna
Edit
The train covers a distance of 1,515 km in 19 hrs and 50 mins.
Competition
Edit
Howrah Rajdhani faces fierce competition from its Kolkatan counterpart, Sealdah Rajdhani. Passengers who have travelled by both trains confirm Sealdah Rajdhani as a better train because of its services.
External links
Edit
References
Edit