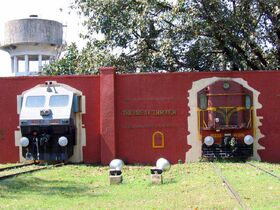 The Diesel Locomotive Works (DLW) in Varanasi, India, is a production unit owned by Indian Railways, for which it manufactures diesel locomotives and spare parts.
Founded in 1961, the DLW rolled out its first locomotive three years later, on January 3, 1964. It manufactures locomotives which are variants based on the original ALCO designs dating to 1960s and the GM EMD designs of the 1990s. DLW has an annual production capacity of 150 locomotives and plans to increase it to 200 based on the current demand.·    A flagship production unit of Indian Railways offering complete range of products in its area of operation with annual turnover of over 2124 Crore.
·    State of the art Design and Manufacturing facility to manufacture 200 locomotives per annum with wide range of related products viz. DG Sets, Loco components and sub-assemblies. 
·    Supply of spares required to maintain Diesel Locomotives and DG sets. 
·    Unbeatable trail-blazing track record in providing cost-effective, eco-friendly and reliable solutions to ever increasing transportation needs for over four decades. 
·    Fully geared to meet specific transportation needs by putting Price - Value - Technology equation perfectly right. 
A large base of delighted customers among many countries viz. Myanmar, Sri Lanka, Malaysia, Vietnam, Bangladesh, Tanzania, Angola, to name a few, bearing testimony to product leadership in its category.
DLW locomotives have power outputs ranging from 2600 hp to 4000 hp. Currently DLW is producing EMD GT46MAC and EMD GT46PAC locomotives under license from Electro-Motive Diesels (formerly GM-EMD) for Indian Railways.
It has supplied locomotives to other countries such as Germany, Sri Lanka, Malaysia, Bangladesh, Mali, Senegal, Sudan [1] Tanzania, Angola [2] and Vietnam and also to a few users within India, such as large power plants.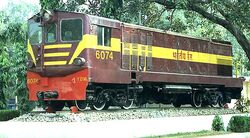 References
Edit
External links
Edit