The Bhubaneshwar Rajdhani is an important train run by Northern Railway, connecting Bhubaneshwar to New Delhi. It runs five days a week from Delhi and Bhubaneshwar both. The Bhubaneshwar Rajdhani is a fast alternative to Neelanchal Express.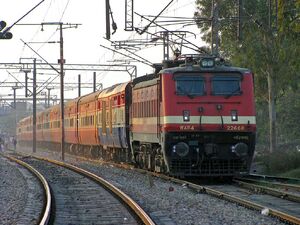 Bhubaneshwar Rajdhani covers the distance in just over 28 hours. It is one of the fastest trains in India.
Train
[
]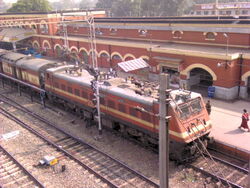 Running as 2421/22 via Adra thrice a week and as 2443/44 via Tatanagar four days a week, Bhubaneshwar Rajdhani Express runs at an average speed of 77 kmph (excluding halts), and touches a top speed 130 kmph in the Delhi - Kanpur section of the route.
Destinations
[
]
The train runs on the Golden Quadrilateral route of Delhi - Howrah till Gomoh, and is one of the most prestigious trains of this route.
2421/22
[
]
The train covers the distance of 1724 km in 23 hrs 10 min.
2443/44
[
]
The train covers the distance of 1800 km in 25 hrs 15 min.
See also
[
]
External links
[
]