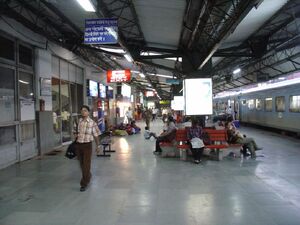 Bhopal Shatabdi is an West Central Railway train running between Bhopal and New Delhi. It is the fastest train in India, running at an average of 93 kmph. The train commenced service in 1988 and was the first Shatabdi train to be introduced. The train runs at an average speed of 93 kmph (including halts), touching a top speed of 150 kmph on the 198 km Delhi - Agra Cantt stretch, which is the fastest for a train in India.
History
[
]
When it was introduced, Bhopal Shatabdi ran upto Jhansi. It was later extented upto Bhopal. The Bhopal Shatabdi was introduced in 1988 to commemorate the birth centenary of Jawahar Lal Nehru, the first Prime Minister of India by the then Minister of Railways, Madhav Rao Scindia.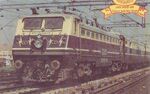 Train
[
]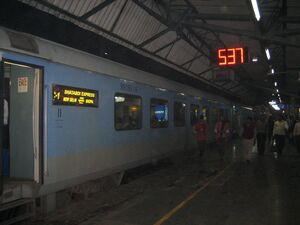 The train is fully air - conditioned and of a much higher standard than most indian rail coaches. Shatabdi Express travellers are provided with snacks, breakfast/meals, coffee/tea, a one litre water bottle provided by the railways owned and operated subsidiary '"Rail Neer (literal translation water)'", and juice.
Destinations
[
]
The train runs across the tourism hub of India covering major tourist cities like Agra, Mathura, Gwalior, Jhansi & Bhopal. The complete route is as follows
Bhopal

Jhansi

Gwalior

Morena

Mathura
The train runs as a day train, and completes the journey of around 701 km in 7 hours and 50 minutes.
See also
[
]
External links
[
]